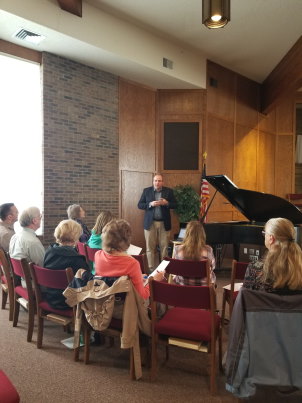 Monthly meetings and programs provide a chance to share ideas and teaching tips with our colleagues, learn from regional and nationally recognized presenters, and continually develop as instructors and performers. We meet on the third Wednesday of each month. If you're a music teacher who hasn't yet joined BAMTA, we invite you to come to a meeting and check us out!
Location: 7493 Old Mill Trail, Boulder 80301 (Harvest Baptist Church)
General membership meeting: 9-10 am
Educational Program: 10-11 am
(Monthly Meetings are currently being held via Zoom)
2020-2021 BAMTA Meeting Schedule (110 downloads)
April 2021: "Teaching the Brain-Impaired Student" – Presented by Shieko Uno
What is Dementia? 
How to differentiate between normal aging, dementia, Alzheimer and brain injuries.

What are the signs and symptoms
What are the tests conducted to determine level of dementia
What are the stages of dementia

Can it be prevented?
Does music have a beneficial role in the treating dementia?
What is it like to have dementia

What is it like  from the patients perspective
How to set your expectations
How to talk to someone with dementia?

Teaching tips
My music bio is easy; I graduated from University of Colorado with both Bachelor of Vocal Music Education and Bachelor of Music Piano Pedagogy. Between undergraduate and graduate school I had the lucky opportunity to attend a semester at Academia Chigiana In Sienna Italy I received my master degree in piano performance from Northwestern University. And started my Doctorate at University of Colorado with focus in research on the effect music has on brain development.  Own and head the Una Corda LLC teaching studio and performance group. My fantasy dream has always been to perform Chamber Music and teach. 

My teaching background is a crazy potpourri of adventures which led to experiences in private, public and corporate education.  I got additional teacher training at the Colorado School of the Blind and also trained as a Buddhist Minister and got my Reiki master certificate and learned to teach Ohara style flower arranging. 

My Actual Working Experience; I did course development for in person and online training courses for both Sun Microsystems and Oracle. I was the head of the Eldora Developmentally Disabled Ski Program for over 10 years, developing both the instructor training program as well as the student training program. Student population included developmentally and emotionally challenged, blind and PTSD Vets. Worked with music therapist creating music for brain injured patients and collaborated on creating CD for hospitalized patients. In my private piano studio I have worked with Down Syndrome patients, brain injured and early onset dementia patients. In the schools Kynzee (My therapy dog) and I volunteered to work with emotionally challenged students and volunteered at senior assisted living memory care facilities. And we also took music programs and conducted sing-alongs at assisted living facilities.
February 2021: "Let's Play Music" – Presented by Steph Fairbanks
https://drive.google.com/file/d/1neSOKOF0ePGmDHFdY2PpHXyjGFzxukLB/view?usp=sharing
Steph Fairbanks is a Boulder music teacher who specializes in teaching music to very young learners. Steph began playing piano at 5, then added violin in the 5th grade as part of her elementary school strings program. Even before earning her degree in Music Education at the University of Oklahoma in 2003, she was teaching children to play string instruments in both public school and extracurricular orchestras. Since then, she have also taught piano and children's choirs here in Boulder as well as in Santa Fe, NM and Melbourne, Australia. But her very favorite job has been teaching babies, toddlers, and preschoolers how to experience music in a way that will not only help facilitate curiosity and learning, but also nurture a lifelong appreciation and love for it. She is passionate about the role music should play in every child's life at home, at school, and in the concert hall. Steph has four children of her own, including two who have autism. Steph is very active in the local autism community and loves to welcome children or all needs into her class who might usually struggle in typical settings.
At her east Boulder studio, Making Musicians in Boulder Valley, Steph teaches two classes: Sound Beginnings, a general music education class for children 0-4 years old, and Let's Play Music, a beginning piano class for children starting at ages 4-6 years old. During her presentation, Steph will speak more about the Let's Play Music program and its research-based approach to introducing children to music and the piano. Across its 3-year span, Let's Play Music focuses on developing the complete musician through teaching ear training, solfege, beginning notation, basic chord theory, self-accompaniment, beginning piano playing, rhythm work, classical form and themes, and even composition. All of this is accomplished through movement, games, and play! Because of the emphasis on developing the complete musician, when a child graduates from Let's Play Music, they are well prepared to continue on in private instruction in piano…or violin, trombone, percussion, voice, or any other musical discipline. Steph will be joined by Symone Lund. Symone Lund received her BA in Music from Brigham Young University. She has been a Let's Play Music teacher for 15 years and has been a trainer for Let's Play Music for 3 years. She is also the Connections Manager and will be the one to help you connect with Let's Play Music! Symone lives in Gilbert, AZ with her husband Adam and their 4 children. Symone will talk more about the three-year scope and sequence of the Let's Play Music program and what the transition into private lessons looks like. As our graduates need private teachers when they finish with our program, Steph's hope is to help the teachers in BAMTA to understand a little more of what her graduates will already know how to do and what they have learned as they come into teachers' private studios so that the transition will be as seamless as possible.
January 2021: How I use Audacity as a Teaching Tool – presented by Carol Wickham-Revier
Carol entered the University of Colorado College of Music in 1967 on a Regents Scholarship, graduated with degrees in piano performance and piano pedagogy in 1971 and 1976 respectively, and received her Nationally Certified Teacher of Music certification in 1972. In the 1970's, she worked for a small publishing company in Boulder, Myklas Press, owned and operated by Mary Elizabeth Clark, former CSMTA president, and helped to found BAMTA's first Achievement Day in the early 70's which later became a state-wide event. She has served in every board position except secretary for BAMTA, has chaired or co-chaired most of its major events more than once (Ach. Day 4 times, MPF 11 times, Spring Recitals, a 3-day "Baroque Festival" back in the 70's) and also filled the position of Vice President for Teacher Enrichment at the state level sometime in the 1980's. In the late '70's through the early '90's she was a member of a four-hand piano team which frequently performed recitals of duet and solo piano music throughout Colorado, and in 1984, while working as marketing director for Chris Finger Pianos in Niwot, conceived of and co-chaired, together with former student and later colleague Laura Williams Boniek, BAMTA's first Multiple Piano Festival, and event which completed it's 35th performance this past November, on Zoom, with Carol as chair.

Trained as a classical pianist (CU studio teachers were Howard Waltz & Larry Graham), Carol enlarged her horizons by becoming a certified Kindermusik instructor in 1990 and taught Kindermusik classes as well as piano lessons in her independent piano studio from approx. 1993-2005. She experimented with a modified form of group teaching by seeing most of her school-age students in pairs from around 1980-2005, largely because of her exposure during graduate school to group teaching guru Guy Duckworth. She also studied jazz piano with Ted Alexander for 1 year, Keith MacDonald for one summer, and Rebecca Martin for 5 years.
Carol has attended at least 12 national and 27 state music teachers' conferences in her 49 years of teaching, and in 2016 completed one of the biggest projects of her career, that of reading and evaluating, with the help of MANY of her students, former students, colleagues and friends, roughly 2000 piano duets, duos, trios and quartets, then selecting and "leveling" the approx. 600-700 which were included in the 2016-2020 edition of the National Federation of Music Clubs bulletin. She was named Teacher of the Year by the Colorado State Music Teachers' Association in 2014.
Her presentation is entitled How I Use Audacity as a Teaching Tool and will include a video demonstration of the following:
1) How I record through a microphone

2) How I save a recording to my hard drive
3) How I email a recording to a student
4) How I record from Youtube
5) How I change the tempo of a recording without changing the pitch
6) How I record using multi-tracks.
September 2020: "Studio Website Design" – presented by Amy Briggs
Amy Briggs – Short Bio:
Amy Briggs is considered a leading interpreter of the music of living composers, while also bringing a fresh perspective to music of the past. As a member of the Chicago Symphony Orchestra's MusicNOW ensemble from 2001 to 2016, she worked with composers such as Pierre Boulez, Augusta Read Thomas, Marc-Anthony Turnage, Oliver Knussen, Esa-Pekka Salonen, and Osvaldo Golijov. The Chicago Tribune called "extraordinary" her "mastery of what lay on the dense, printed page and beyond," and the Chicago Sun-Times called her a "ferociously talented pianist." The New York Times described her Lincoln Center performance of Luciano Berio's Sequenza IV as having "a live-wire intensity." Her recordings include four critically acclaimed discs of David Rakowski's Piano Etudes on Bridge Records, the world premiere recording of David Rakowski's Piano Concerto No. 2 with the Boston Modern Orchestra Project on the BMOP label, two discs of solo piano and chamber music of Augusta Read Thomas for the ART label, music of Conlon Nancarrow, Morton Feldman, Edgar Varese, and Erik Oña for Wergo Records, and a disc of contemporary piano tangos for Parma Records. She has performed across the United States, Europe, Africa, Australia and New Zealand, and Asia. Amy Briggs earned her Doctor of Musical Arts degree in Piano Performance at Northwestern University, as a student of Ursula Oppens. She was a member of the faculty of the University of Chicago as Director of Chamber Music and Artist-in-Residence from 2009 to 2016. A Steinway Artist, Amy now resides in Boulder, Colorado where she teaches piano and music theory from her home studio. In addition to performing and teaching, she has worked as a full-stack software developer, yoga instructor and personal trainer, and enjoys building websites in her spare time. When she's not doing any of the above, she's out on the beautiful Colorado trails, training for her next trail/ultra running adventure.

2019-2020 Schedule:
September 18: Shana Kirk "Technologies for Inspired Learning: iPads in the Studio and Multimedia for Engaging Audiences"
October 16: Aaron Garner "Creating and Teaching Effective Group Classes"
December 11: Member brunch at Panera Bread, Longmont
January 15: Alejandro Cremaschi "Teaching Online Lessons: The Good, the Bad and the Ugly"
February 19: Amanda Setlik Wilson " 'Extending' the Boundaries of Piano Pedagogy: Teaching Extended Techniques in the Music of Emma Lou Diemer"
March 18: Grace Asquith "Expressive Playing: Engaging Your Audience"
April 15: Teachers Forum "Share Your Favorite Teaching Apps"
May 20: MPF Music Selection Committee "Unveiling of Music for 2020 Multiple Piano Festival"