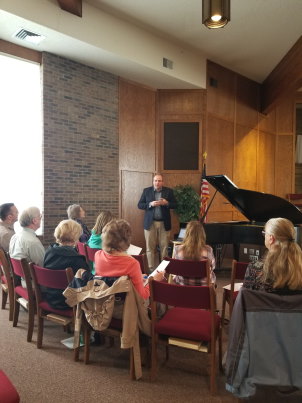 Monthly meetings and programs provide a chance to share ideas and teaching tips with our colleagues, learn from regional and nationally recognized presenters, and continually develop as instructors and performers. We meet on the third Wednesday of each month. If you're a music teacher who hasn't yet joined BAMTA, we invite you to come to a meeting and check us out!
Location: 7493 Old Mill Trail, Boulder 80301 (Harvest Baptist Church)
General membership meeting: 9-10 am
Educational Program: 10-11 am
(Monthly Meetings are currently being held via Zoom)
2020-2021 BAMTA Meeting Schedule (37 downloads)
September 16: Website Design – presented by Amy Briggs
Amy Briggs – Short Bio:
Amy Briggs is considered a leading interpreter of the music of living composers, while also bringing a fresh perspective to music of the past. As a member of the Chicago Symphony Orchestra's MusicNOW ensemble from 2001 to 2016, she worked with composers such as Pierre Boulez, Augusta Read Thomas, Marc-Anthony Turnage, Oliver Knussen, Esa-Pekka Salonen, and Osvaldo Golijov. The Chicago Tribune called "extraordinary" her "mastery of what lay on the dense, printed page and beyond," and the Chicago Sun-Times called her a "ferociously talented pianist." The New York Times described her Lincoln Center performance of Luciano Berio's Sequenza IV as having "a live-wire intensity." Her recordings include four critically acclaimed discs of David Rakowski's Piano Etudes on Bridge Records, the world premiere recording of David Rakowski's Piano Concerto No. 2 with the Boston Modern Orchestra Project on the BMOP label, two discs of solo piano and chamber music of Augusta Read Thomas for the ART label, music of Conlon Nancarrow, Morton Feldman, Edgar Varese, and Erik Oña for Wergo Records, and a disc of contemporary piano tangos for Parma Records. She has performed across the United States, Europe, Africa, Australia and New Zealand, and Asia. Amy Briggs earned her Doctor of Musical Arts degree in Piano Performance at Northwestern University, as a student of Ursula Oppens. She was a member of the faculty of the University of Chicago as Director of Chamber Music and Artist-in-Residence from 2009 to 2016. A Steinway Artist, Amy now resides in Boulder, Colorado where she teaches piano and music theory from her home studio. In addition to performing and teaching, she has worked as a full-stack software developer, yoga instructor and personal trainer, and enjoys building websites in her spare time. When she's not doing any of the above, she's out on the beautiful Colorado trails, training for her next trail/ultra running adventure.

2019-2020 Schedule:
September 18: Shana Kirk "Technologies for Inspired Learning: iPads in the Studio and Multimedia for Engaging Audiences"
October 16: Aaron Garner "Creating and Teaching Effective Group Classes"
December 11: Member brunch at Panera Bread, Longmont
January 15: Alejandro Cremaschi "Teaching Online Lessons: The Good, the Bad and the Ugly"
February 19: Amanda Setlik Wilson " 'Extending' the Boundaries of Piano Pedagogy: Teaching Extended Techniques in the Music of Emma Lou Diemer"
March 18: Grace Asquith "Expressive Playing: Engaging Your Audience"
April 15: Teachers Forum "Share Your Favorite Teaching Apps"
May 20: MPF Music Selection Committee "Unveiling of Music for 2020 Multiple Piano Festival"